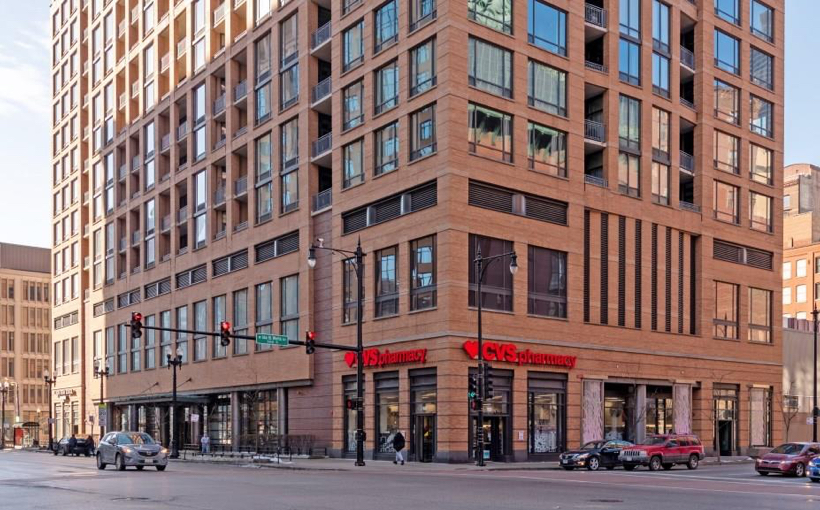 The Boulder Group Arranges Sale of Net Leased CVS Pharmacy in Downtown Chicago
Randy Blankstein and Jimmy Goodman of The Boulder Group represented both sides in the transaction
The Boulder Group, a net leased investment brokerage firm completed the sale of a single tenant CVS Pharmacy located at 520 South State Street in Chicago, Illinois for $4,992,000.
The 8,781-square-foot CVS trophy property is located on the ground floor 180 unit condo building and in a highly dense area with over 16,000 businesses and over 420,000 employees working within one mile of the store. Numerous schools are in close proximity to the property including DePaul University, Columbia College Chicago, Roosevelt University, Robert Morris University Illinois and the School of the Art Institute of Chicago. The CVS is located at the hard corner of a signalized intersection along State Street and Congress Parkway (97,000 VPD). There are 58,841 people living within one mile of the property with an average household of $142,236.
The property was acquired by a successful Mexican investor represented by Miami-based EXAN Group. "While EXAN's name might be commonly associated with the office and industrial sectors, this property is a good example of the type of well-located, long term, conservative retail deals that we actively seek", said Juan José Zaragoza, EXAN's Founding Partner, as they continue to successfully complete transactions, from beginning to end, during the pandemic.
Randy Blankstein and Jimmy Goodman of The Boulder Group represented both sides in the transaction. The seller is local real estate owner and the buyer is a real estate investment firm based in the southeast.
CVS Pharmacy has more than ten years remaining on their lease. CVS Pharmacy is the nation's drugstore chain and total prescription revenue and operates 9,800+ locations in 49 states, the District of Columbia, Puerto Rico and Brazil.
"CVS drug store properties with proven operating histories continue to garner significant investor interest" said Randy Blankstein, President of The Boulder Group. Jimmy Goodman, Partner of The Boulder Group, added, "Properties in central business districts remain in demand with all investor classes, especially with tenants such as CVS."
Source: Virtual Strategy Magazine